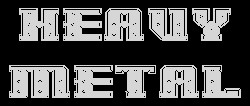 Along with being an opinionated bastard about Bikes,
I also tend to get a little loud about what constitutes
"good" music. Hard Rock, Classic Rock, Heavy Metal, Goth,
Industrial...hey...it's all ROCK AND ROLL to me!
I just like some more than others!

Spyder's Top 10
HEAVY METAL ALBUMS



Of All Time


METAL THRASHING MAD!

Online Hard Rock Station...worth the downlods if ya don't already have em!