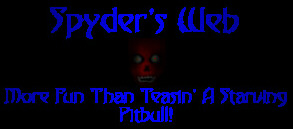 WOOF!

"When we do right, no one remembers...
When we do wrong, no one forgets."
~Sonny Barger~


Spyder's
Amazing Neverending
Technocolor Psychobabbler!
Updated 1-27-99

"REB"

Some Wicked Wavs


I hear this a lot!

Ya wanna?

The problem with Handcuffs!

Why are you here?

Advice from Spyder...
COMING SOON!

PARTY PICS...
RANTS AND RAVES...



Spyder's Misuse and Abuse of a Word Processor



PSYCHOBABBLE!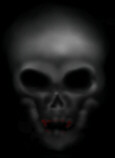 HEY LILITH!!!


METAL THRASHING MAD!
Links Page With Graphics,
Friends and Favorites
Visit these people because they help keep the
internet an interesting place to look around...
The Night Gallery...Gone but not forgotten! Check out these other Snazzy Dark Links
for Skulls, Vampires...etc...
Kat's Meow Graphics...Some cool sets.
BellsnWhistles. A ton of excellent resourses!
The Java Shoppe. Make those pages vibrate like a trucker behind schedule!
I've attempted to give credit where credit is due. If I've missed adding a link for your artwork used here...let me know and I'll fix that A.S.A.F.P!

Last Time This Page
Was Hammered On Was

January 26,1999

HANG ON "SNOOPY"!
All Text
Copyrightę1998/1999 by E.L. Seitz
All Rights Reserved
DO NOT USE WITHOUT PERMISSION OR BAD THINGS WILL HAPPEN TO YA! ;^}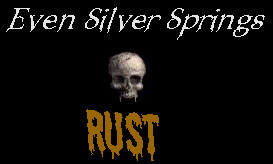 Original artwork (as crappy as it is) is cool to take.
All I ask is ya download it to your own server and maybe
give a link back to little ol' me.~S~