THE OFFICIAL SPYDER'S WEB HARDCORE BIKERS WEBPAGE AWARD!
FIRST:Read and answer (BE HONEST NOW!) the questions below.
SECOND:Send me an email and lemme know where I can see ya page...
THIRD:After I see for myself that ya really are a hard ridin', hard livin',
rather eat dirt than ride rice, leather scented, gimme back my bullets, hardcore biker...
I'll send ya the award!
(MY PAGE...MY AWARD...MY FUKIN' ROOLES!)
OH SURE! Ya could just download it...post it on ya page and say,"Screw Spyder and his rules!"
But we BOTH know that ya would feel like ya cheated...
AND I WOULD TELL ALL YA BROS THAT YA SECRETLY RIDE RICE IN YA MOMMA'S PANTIES!
Of course there is another way to get this thing. If I surf through a website at random and like what I see I'll send the award to the owner. If they wanna put it up that's kewl...if not...that's kewl too! ~Hey...unlike an STD the award can be gotten rid of!~
As Dixie Deb would say..."IF YA SCARED, SAY YA SCARED!"
LET'S DO THIS THING!
ARE YA HARDCORE OR A YUPPIE WANNABE?
Answer these simple questions to find out if ya a HARDCORE Harley Zealot or just another Gold Card carryin', weekend warrior with far too much factory authorized crap...
1. Have you ever painted yer Harley with a can of Krylon ya had layin' around in the garage for years and said, "Looks Good! Let's ride!"
2. Do you find yaself wonderin' HOWDAFUK ANYONE can ride 200 miles on a crotch rocket?
3. Do ya own MORE Harley shirts than dress shirts?
4. Does the place ya work on yer Harley also serve as ya primary sleeping area? ~Ya Kitchen and/or living room also counts!~
5. Do ya ride yer Harley MORE than 2 days a week?
6. Would ya rather push ya Harley than ride rice?
7. Is your idea of a "Japanese Motorcycle Repair Kit" a handgrenade?
8. Would ya ever go without food, a phone and ALL other luxuries just so ya could finally fix that annoying clutch slip?
9. Do people instinctively know NOT to piss ya off?
10. Who spends more time in the back of pick-up trucks...

a.)YER DOG

b.)YER OL' LADY

c.)YER HARLEY

Now...if ya bein' HONEST...you'll know if yer hardcore...in fact...if ya hardcore...YA DIDN'T EVEN NEED TO TAKE THE FUKIN QUIZ!!!!!
(Hey! I gotta fill the page with something don't I???)
STEP TWO!

Email me and lemme me see yer page! Chances are I will go ape shit over it cause I'm pretty easily amused AND impressed so don't sweat the small shit!

After I sign yer Guestbook...steal all ya graphics and generally make ya life a livin' hell...I'll send ya the award! Seems people like to get em in their guestbook so the whole world can read all about what a great site they have, blah blah blah...yadda yadda yadda, yakity shmakity!All I ask in return is that ya use the html code I send with the graphic so I can get a link back...HEY! Why ya think they call it the WORLD WIDE WEB???

So...what ya waitin' for?

STEP 3!

PLEASE TELL ME YER NOT GONNA SIT THERE WAITIN' FER THIS!!!
GO AWAY!
I'LL EMAIL IT TO YA WHEN I GET AROUND TO IT!
~GEEZE!~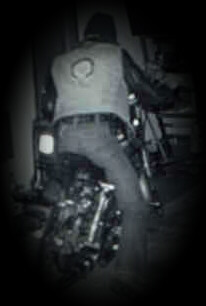 Spyder Knows Good Kharma!

So...
Ya took the test and yer kinda thinkin' maybe ya really ain't Hardcore at all...
But because ya feel ya have a pretty kewl webpage...ya still want one of Ol' Spyder's
handmade Awards to paste on the wall...
Well...once again in my NEVER ENDING quest to keep every single living thing
in the known universe grinning and happy...
I have ANOTHER Award for ANYONE who feels they should still have one!
Just drop me a line and lemme look around yer page, in your attic and maybe in yer underwear drawers (LADIES ONLY PLEASE!) and I'll lay this bodacious Award right on ya!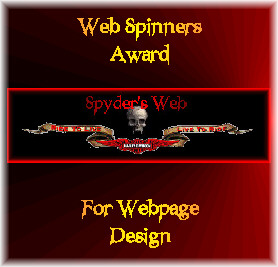 Why did Spyder make an award?

See???...I know how you people are!
Ya wonderin' who dafuk this Spyder person thinks he is to be bestowin awards to webpages...RIGHT?


Here's the deal...I used to see these things all over the web...everywhere I went people had awards posted and was offerin' em to others and I thought..."FUKDAT! SEND ME THE CASH!"

The way I see it now though...after having spent a LOT OF TIME buildin' MY page...it's kinda cool to get one of these things from someone! It says they took the time to look at what I did, liked it and wanted me to KNOW they liked it!

Thanx to BABE and MS. HARLEY for the Graphics!